8 STYLISH NATURAL STONE MATERIALS FOR YOUR KITCHEN WORKTOP
You are choosing your new kitchen, everything is ready, but… you are still not sure about the material for your worktop.
T&V Architects picks 8 natural stone materials that are strong and look stylish.
Graphite Brown by Eggersmann
The marble comes from quarries in Iran and presents a brown base with elegant white veins. We love the leather finish by Eggersmann because it creates a smooth relief surface. The marble is acid sensitive, thus it must be appropriately treated before its installation. T&V Architects designed the kitchen of the project Mulberry Walk in Chelsea SW3, London with this material.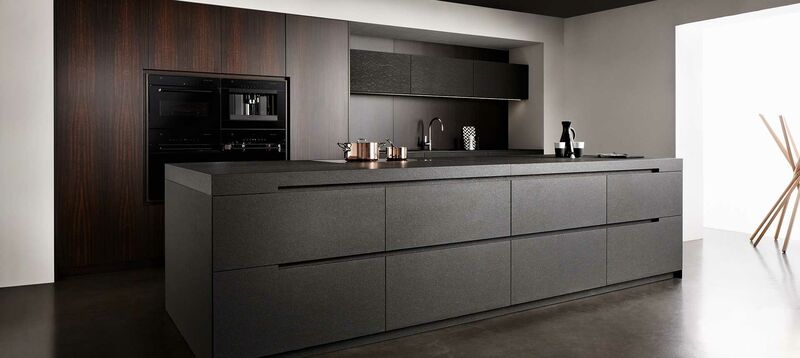 Nero Assoluto by Eggersmann
The deep black granite is resistant to heat, acids and scratches. It can be quarried in different countries in the world, although we recommend the one coming from Zimbabwe because of its great colour uniformity. We love the waterjet finish, as it produces a three-dimensional texture that enhances the character of any kitchen.
Montauk Black Slate by Eggersmann
This natural slate is quarried in Brazil and presents a smooth surface. The polished finish reveals elegant contrasts between shades of dark greys and glossiness. The stone is acid resistant, thus it will not etch when exposed to wine and citrus juices.
American Black by Bagnara
Quarried in the USA, this granite supplied by Bagnara presents a dark background with beautiful white veins and dots. The stone is durable and acid resistant, therefore suitable for kitchen worktops.
Carbon Grey by Bagnara
The material is a grey quartzite with an elegant orientation of veins. This stone comes from Brazil and has great colour consistency. It is acid-resistant and hard, which qualities suitable for a kitchen countertop.
Calacatta Brasil by Antolini
Calacatta Brasil by Antolini is a white quartzite from Brazil with thin grey veins, which should not be confused with Italian Calacatta marble. The first is stronger and more resistant to acids and heat. Calacatta Brasil fits well in modern-looking and sophisticated kitchens.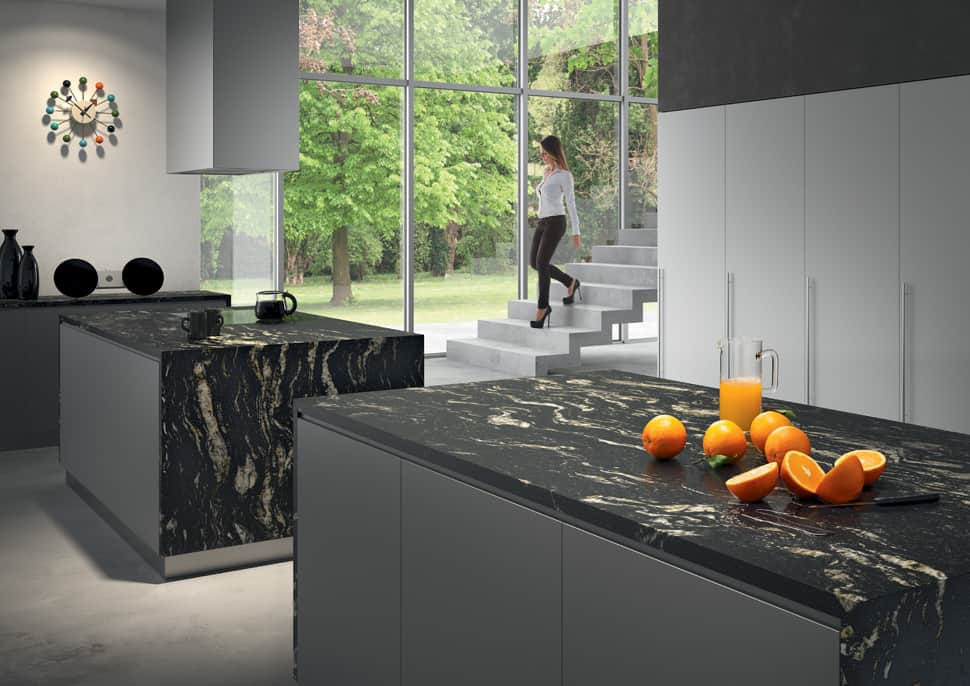 Cosmic Black by Antolini
This durable material is a black granite featuring white/gold veins and clusters. The stone is quarried in Brazil. Cosmic Black is heat-resistant and not likely to scratch or stain, so it is ideal for statement kitchens.
Taj Mahal by Antolini
The creamy, tan and white quartzite is quarried in Brazil. It is a naturally strong, heat-resistant material with a stylish look. It is resistant to scratching and acid, so it will not get marked when exposed to vinegar or coffee.